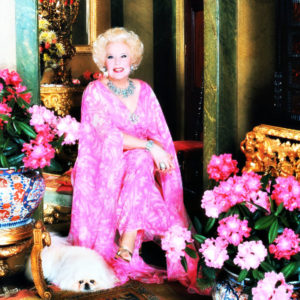 My mother's bookstore was where I learned to read, where I learned to write, and where I learned to take my coffee black. It's also where I fell in love with Barbara Cartland—both her novels and her amazingly glamorous author photos. I wanted to be her when I grew up. A successful author and a Dame Commander of the Most Excellent Order of the British Empire.
When I discovered that she was Lady Di's grandmother (well, step-grandmother, but still…), I was delighted. Of course a fairytale princess would have Dame Cartland for a grandmother! Now we all know that Diana's life as a royal was anything but joyful. The desire to give a princess hounded by the paparazzi a happy ending fueled my first novel, Under the Legend. Aviation also figures prominently in that book, and I just discovered today that Cartland was an aviation pioneer. She also wrote a play that was banned because it was deemed too risqué! My own fiction is a bit darker—and sexier—than the chaste paperbacks I devoured in my mother's bookstore, but I love thinking that this daring Dame might have approved.
I'm working hard at becoming a successful author. And I haven't given up hope on a DBE, either.
Tags: barbara-cartland, favorite-authors, lady-diana, princess-diana, under-the-legend